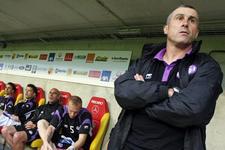 Toulouse just managed to save themselves from relegation last season. The presidet Sadran decided to change coaches, a number of senior players have left the club and were replaced by lesser known players...
19th on the night of the round 31 game , Toulouse really waited for the last minute to save their place in the L1. Elie Baup's men spent the whole of the season in the lower half of the table, 10th place being their highest position. With only17 points taken during the return round of games; only Strasbourg and Valenciennes did worse. 9 points won at home in this period, in 9 games!

Perturbed by their 3rd round Champions League game, the injuries to certain senior players (Arribagé, Mathieu…), Toulouse were unable to re-edit their 2006-2007 performance (3rd). They were also eliminated from the national cup competitions in their first games as well as from the group stage of the UEFA Cup.

Elie Baup has been sacked and replaced by his assistant Alain Casanova, who will be on the bench as manager after having been the assisatant to Courbis, Giresse, Lacombe, Mombaerts and Baup. This former goalkeeper who played for Le Havre, OM and Toulouse disputed nearly 150 games in the L1. A baptism of fire which will not be simple. Toulose have lost a lot of their senior players . Elmander, Arribagé, Emana, Dieuze, Douchez, without forgetting Battles and Santos.

To replace them, they have brought in Didot, Berson, Carrasso, Bonnet (loan return), Pentecôte (loan return) and 2 foreigners: the Norwegian Braaten and the Swede Larsen. What can be said of these recruits? Not a lot was saidd about them last season … will Larsen be able to replace Elmander, who Toulose were very dependant on last season (10 goals in the first round of games for a totl of 19 scored by the team?

Toulouse have a less impressive squad this time around and will most not likely be playing at the top end of the table. Their friendly games have, however, shown a side that is defensively solid, only conceding 3 goials in 7 games; they did not concede at all against Bordeaux and OM.