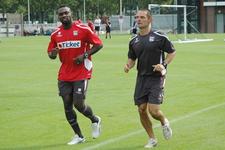 After a lap of the pitch, the 20 players present this morning started of the session warming up with Robert Duverne then some indoor work.

Juninho, Ederson and Cris the played a round of foot-tennis while the other 17 players put on their boots for a work out based on passing and a lot of work in front of goal.

John Mensah, who has been resting for a week because of a slight injury to his left calf, clocked up laps of the pitch accompanied by the clubs physios, Sylvain Rousseau. Frédéric Piquionne trained normally with the rest of the group. It is of note that Mathieu Bodmer, with a knock on his right foot, shortened his morning session. It was more a precaution, as the former Lille player was able to take part in the afternoon session without any apparent problems.