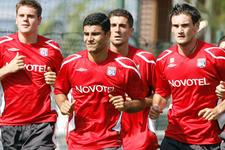 Lyon's treatment room is slowly but surely emptying. Juninho and Ederson were both back in training today. In the next few days they should be joined by Fred and Mensah. Keita still has to wait another week. For Fabio Santos, operated on Thursday, the wait will be a lot longer.
After two days rest, the OL squad was back in training this afternoon. Everyone started off with a « long » run around the training grounds three pitches. The group of 23 players was then split into three different groups: one group continuing running, another working on acceleration, while the final group did some physical work with Robert Duverne.

They then took part in a match on a reduced size pitch with small goals and a limited number of touches .

Juninho trained normally with the group. Ederson, who, as was confirmed by Claude Puel, « still has some work to do on an old injury », took part in the session of accelerations, but not the match. Frédéric Piquionne, who today underwent some tests, is now able to train with the group.

Fred, who « no longer feels any pain » in his knee, will be able to start running soon, John Mensah tomorrow.
Kader Keita still has to keep the protection on his arm "for another week ". After his operation on Thursday, Fabio Santos « will be totally rested for three weeks » declared the OL manager.