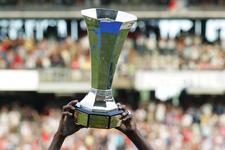 Certainly OL are defending their Trophy away to Bordeaux, but there are also other things at stake in the first official outing of the season...
In his role as a builder, Claude Puel often talks of the building site since his arrival at OL. No question of him considering that he has been given the keys to a luxurious French house that has become used to success since 2001, a house in no need of works. Let me be quite clear … there is some refection work to be done says Puel. This house, he wants to make it more beautiful than it has ever been. Important parts have left, some are undergoing treatment or not quite in top form yet … without forgetting the new recruitd. There was also the two tiered pre-season preparation because of the Euro.

So if the foundations are as solid as ever, the new finishing touches will take some time as far as the demanding coach is concerned. His first four weeks at the club have already shown a little of what he expects. Expectations that mostly concern automatisms, in order to have some guarantees from this new group. He also worked a lot on collective closing down, rhythm for getting the ball forward, the choices between patience and acceleration … As for the formation, we've inderstood that nothing is fixed in stone and everything can evolve depending on the game in progress.

Against Bordeaux who have let Micoud go and have signed Gourcuff, Gouffran and Placente, Claude Puel will be expecting some progress in his sides' gameplay. His OL will have to impose themselves. We saw some good things in Belgrade, for example… but the first half against Monaco must serve as a lesson of what not to do.

In Bordeaux, it would appear that there will not be too many changes compared with last seasons line-up. Ederson, Mensah & Piquionne are out, it is a fair bet that only Lloris and Makoun will be making their debuts on Saturday afternoon. Pjanic should be on the bench. One question : who will be alongside Cris in the centre of defence? Bodmer or Boumsong…

Things are at stake for the style of play, but mainly the result of the match is a big stake . It ismpossible to imagine the seven times French champions going into an official game without the idea of winning it. « We want to win our friendly matches … so this game in Bordeaux is really important for us! ». Sidney Govou, OL's top scorer in the competition quickly disperses any doubts. And if, for the Brazilians Juninho & Cris, this match is part of the preparation and doesn't really have any sense as OL won the Double last season … they are still talking of a match that has to be won.

Indeed this Trophy match, in theory, should not have taken place. in 96, Auxerre awho won the Double did not play against their runners-up from the League … Times change! It is the chance to see a high quality game between Bordeaux and Lyon. A Bordeaux side that gave the Champions a run for their money last season, even if they lost their two confrontations quite heavily. Laurent Blanc's Bordeaux are a side that are interesting and a pleasure to watch. The President has managed to transfer his talent as a player to that of a coach. He also has something to confirm after a year in charge of Bordeaux.

Even if no conclusions should be drawn after this first match of the season, the habits that OL have taken, have given everyone an appetite. In the last few years the stories have always started off well...