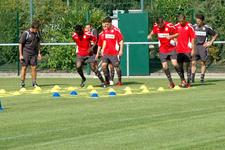 A heatwave accompanies the OL squad during their training session...
Warming up in such conditionscould force a smile ! OL did with some interesting exercises concocted by Robert Duverne. 20 minutes later, 3 groups were drawn up: thjose who like foot-tennis, the free kick aficionados, without Juninho who was having some treatment, and a last group working in front of goal, with Vercoutre and Lloris taking turns between the posts. The session finished at around 18h 30 with some stretching. Patrick Collot and Bruno Génésio having some fun with a game of foot-tennis.

Sidney Govou worked, obviously, in front of goal; an exercise he appreciates. Does he remember the Champions Trophies that he has played in (4)? « Yes, as I managed to score the one and only hattrick of my pro career, with a great headed goal. Afterwards, I remember that I scored a goal against Sochaux last season ». An important game for « Sid ». «A match to be won, for sure. We already want to win our friendly games, so definitely this matc ».

Robert Duverne has finished putting his equipment away. How does he see this game in Bordeaux going ? « It will be a reference game for two teams that will be disputing the Champions League. The Bordeaux side that we will see on Saturday won't be the same one thta plays in the first Champions League game. It will be the same for OL. »

With just one day left to go in this training camp, the OL squad will be trying to avoid the suffocating heat by training earlier on Friday. In the afternoon they wil be heading to Bordeaux. Claude Puel won't be taking all the players from the training camp to Bordeaux. Those who don't make the trip will head back to Lyon were they will take part in a friendly match.