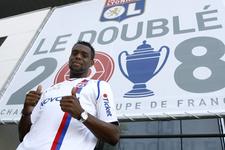 Frédéric Piquionne today signed a 4 year contract with Olympique Lyonnais. He joins the seven times French champions from Monaco for the sum of 4,5 million euros. At OL, he will wear the number 39.
The arrival of Frédéric Piquionne at Olympique Lyonnais was, since Tuesday and the game between OL and Monaco, considered as a foregone conclusion. Today, the French international (1 cap) signed a
4 year
contract with the seven times French champions. In exchange, AS Monaco will receive
4,5 million euros
.
OL's interest in Piquionne isn't new.
At the end of 2006, the club already showed their desire to sign the forward when he was at Saint-Etienne.
Without any luck, the eternal rival not wanting to reinforce their neighbours. He confides: «
At the time, the president Aulas said to me
: "Don't worry, one day you will play for Lyon." » There then followed a season and a half at Monaco «
which didn't satisfy him
» (46 matches and 12 goals in League 1). At 29 years of age, the player who still feels «
young for football
», wants «
to carry on growing
» : «
it was very important for me to find a new challenge. I am tenacious and I want to succeed. I came here to progress and step up another level . Some people are sceptical but I can bring different solutions, a different style of play, I can help the club grow. It will take the time it takes but I'm working as hard as I can to catch up physically and be ready when the coach needs me
».
Claude Puel now has four strikers at his disposal. One too many? «
It's up to Milan (Baros) to show his qualities, but if an opportunity comes along he will be transferred
, reveals Bernard Lacombe who continues :
he has a lot of value on the transfer market, he is a Czech international and took part in the Euro, we won't let him go for nothing
». For the time being, Piquionne will be filling in for the absence of Fred, who could be kept away from the pitch for «
two or three weeks
» according to president Aulas's councillor who breaks down the profile of their newest recruit : «
he will bring us a different style of play compared to Karim Benzema or Fred. It was important for us to recruit a player of his stature, with his speed and efficiency.
» A goalscorer but also provider, Piquionne, who refuses to be catalogued as a player who needs to be in a 4 – 4 -2 formation, has an attacking register diverse enough for him to partner Karim Benzema at the point of OL's attack. «
Karim and I have different qualities, we can be very complimentary
», he analyses.
[IMG43346#R]At OL, his adaptation could be made easier as he already has a good relationship with a number of players in the squad. He will not have to wait long either, to win over the supporters, as in exactly one month there is the derby with AS Saint-Etienne. A match that he does not apprehend, he who once played for Saint-Etienne: «
It's a match like any other. I'm expecting a "warm" welcome, nothing else
».
See Frédéric Piquionne's profile.