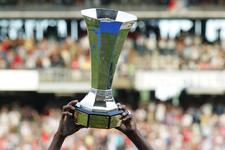 On Saturday in Bordeaux, will take place the 13th Champions Trophy since it's relaunch in 1995...OL have taken the lions share with 6 victories.
Once upon a time there was the Challenge of the Champions, from 55 to 71, during which time ASSE (5) and Reims (4) were the principal winners. Since 95, the Champions Trophy took its place and OL logically picked up where those two teams left off.

6 titles in a row for OL in as many participations! Coupet is the record holder with 5 appearances ahaead of Müller, Govou, Réveillère (4) ; Juninho, Ben Arfa, Berthod, Malouda 3 ; Landreau, Chanelet, Fabbri, Savinaud, Benzema, Källström, Clerc, Toulalan (2)… In total 113 different players who have written their names onto this competition.

There are, 8 coaches. Paul Le Guen (3), Denoueix (2), Houllier (2), Perrin (1), Giresse (1), L Ferndandez (1), Puel (1), Tigana.

Two players have won the competition with 2 different clubs, Chanelet and Carrière with Nantes and OL, no coach has managed this feat yet. Claude Puel has the opportunity to do this on Saturday. He was assistant coach to Jean Tigana when Monaco won in 97 against Nice.

12 matches that 4 were won on penalties. PSG in 95 against Nantes ; Monaco in 2000 against Nantes ; OL in 2004 and 2006 against PSG.

Since OL have been involved in the competition, no player who has worn the OL jersey has lost in the Trophy game… except Luyindula for Strasbourg, Vairelles for Lens, Chanelet for Nantes, Carrière for Nantes. If Boumsong plays on Saturday, he will remember that he lost whilst playing for Auxerre in 2003… against OL.

The top goal scorer in the competition? Sidney Govou with 4 goals, ahead of Carew 3, N'Doram 2… 10 different goal scorers for OL, but not Juninho.

Only one 0 - 0, in 2000 between Monaco and Nantes.

OL will be playing for the second time on the pitch of their opponents. In 2005, it was against Auxerre for a demonstration, a 5 - 1 win. OL have played 3 times at home, in 2003, 2006 & 2007 and twice on a neutral ground in 2002 & 2004.

Only one player in the Bordeaux squad has taken part in a Champions Trophy game: Ramé in 99 against Nantes; he suffered a 1 - 0 defeat.

If they play on Saturday Lloris, Makoun, Pjanic will take part in their first ever Champions Trophy match.

Paul Le Guen, Gérard Houllier and Alain Perrin all won their first official games with OL in taking the trophy.

A reminder : in 96, when Auxerre won the Double… The Champions Trophy did not take place… This time around will be the first time a Champion has faced their runner-up.