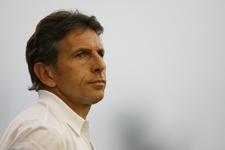 A morning with the media in Divonne for Claude Puel, Cris and Fabio Grosso…the squad getting back into training in the afternoon...
Television, radio and written press, was what was in store for the 3 members of the Lyon squad who were called upon to respond to the gathered journalists.

Claude Puel

The coach spoke about the game in Annecy, of the necessity of the training camp at Divonne and the importance of the Champions Trophy…He restated that the tactical formations were not set in stone, and that the group still needed to work before being as performant as he wanted. He once again spoke of the idea of bringing in another left back and did not deny the arrivalof Fred Piquionne. Here are some other responses…

Where will Mathieu Bodmer be playing?
« Anything is possible for Mathieu, as he has the capability of being performant in a number of positions ».

Are there too many players for the midfield ?
« There are quite a few. I have to make sure everyone feels ok with the situation and that no-one feels excluded. It has been like that at OL for quite a while now. What matters is the efficiency of the team ».

Tactical formations?
« What matters is the philosophy of our play, when we do or do not have the ball. We have to be able to change systems and to adapt to our opponents. No, I haven't felt any reticence concerning the change in system. Anyway, the past is the past ».

Pre-season?
« We went straight for what was essential. We still do not have enough automatisms. We will advance step by step through hard work ».

The Champions Trophy?
« It's important that we stand up and be counted (Claude once again made it clear that he did not like losing, whether it be in a friendly, official or training game!). At 18h00, it will still be hot; I'll see who plays depending on their form. The side that starts against Bordeaux won't necessarily be the one that starts in the League..»

Cris
What does this game in Bordeaux represent?
[IMG43340#R]« First and foremost it is to perfect our preparations. It's still a match that is there to be won, even if I don't see why we should be playing it, having won the Double. We all cannot wait for the real competition to start and the atmosphere surrounding thegames ».

Bordeaux?
« The have a good team and have recruited intelligently so as not to upset the balance of their squad ».

What are your impressions of this start to the season ?
« Since I have been at OL, it's the first time I've done as much tactical work. The coach has brought discipline with him. It's essential in order for the group to work ».

John Mensah?
« He is one of the best defenders in the League. Now we are three for 2 posts, without forgetting Mathieu Bodmer ».

Cris who is taking care of his knee that was operated on last August, giving it all his attention before and after matches. « It takes 18 months for everything to be OK. I am still treating it and doing a lot of exercises, like skipping … » And Fred Piquionne? "He is a good forward, heads the ball well, he is quick and can shield the ball well. He was very good against us when he was at Saint Etienne ".

[IMG43339#L]Fabio Grosso
Fabio prefers talking about the group rather than himself.

Fabio, how are you feeling ?
« Good, even if pre-season is always difficult. This season, I don't have the physical problems I had last year. After the Euro, I made a complete break from football and sport in general. It was mentally and physically necessary ».

How would you judge your first season at OL ?
« It was a great season for the club, winning all those trophies. As for me, well I was happy with my season, I played a lot. I hope it continues that way »

How is the squad ?
« There is a good atmosphere. When they call me a Macaroni (he laughs), it's not the same as during the game against Strasbourg. Since then my teammates have been having fun with it ».

The Champions Trophy ?
« It will be difficult. Bordeaux have a good side. They kept us on our toes last season. We have to win … »

Competition ?
« No problem. I'm a professional. I've always managed to adapt ».