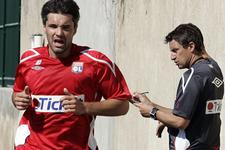 The international has become a key element on OL's midfield. He is in preparation for his 3rd season at Lyon...Here are 3 questions for the former Nantes player...
Jérémy have you had a real break since the Euro finished ?
«I gave myself one full week off . Then I started running again based on what Robert Duverne generally has us do. I have to keep things up, if not when we start up again I'm in trouble. So I went out running 40 minutes every day, whether I was in Lyon or Nantes. It's an obligation but it isn't disagreeable ". Jérémy already confirmed a few months back that he had to be in form for pre-season training, otherwise things were difficult for him. When we ask him what he likes in football, he replies: "among other things, going beyond your limits, the idea of going right to the end of what you can give. During my second season, I had to confirm what I'd done in the first. It's a lot harder. It's always easier when you arrive in a club. Now I just have to keep working in order to progress ».

Do you consider yourself one of the leaders of the squad ?
« On the field, you could get that impression. But, I want to stay focused as I did during my final season at Nantes. Afterwards, it's not really me. And as I don't often speak a lot, my words could be stronger than my thoughts in the heat of the action especially when I am angry with a referee … Sometimes you have to talk and I do. But of the field I'm quite reserved, even if I am less shy than when I was younger ». Jérémy a leader by example rather than in the dressing room.

Is the fact that you haven't scored a single goal for OL getting to you ?
« I want to score that first goal. Scoring is domething I have to work on as well as is my passing to make goals. Yes, I want to score, especially at Gerland just as I wanted to score at La Beaujoire. It doesn't really matter how it goes in, I'll take anything. A long range shot or a tap in on the line. I don't care. Last season, I hit the bar twice and a keeper also pulled off a great save from one of my efforts ". What if it was against Nantes who have just gotten back into L1. The return of FCNAto the elite is great news for him, but for other reasons as well: "we've spoken about it amongst ourselves. It's good that they are back as we all agree that it's great to play at La Beaujoire. Other than that, I don't really know anybody who is there anymore, apart from Bruno Da Rocha..."