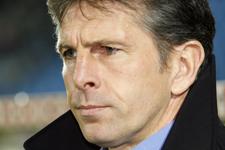 At the end of the victorious match against Nancy (3 – 0), Claude Puel was very pleased with the second half performance of his players. « The temperature had dropped; we were able to accelerate our play, and played the ball round better , he analysed whilst speaking to OL TV. We managed to up our rhythm thanks to the quality of our passing. It's interesting and satisfying ».

Lyon's coach didn't forget to mention « the only problem of the evening », the injury to Fabio Santos, who took a knock in the 27th minute in a clash with Moncef Zerka : « We will be without Fabio for a number of months as he has a broken cheekbone . It's a shame.»

After a two day break, the OL squad will, on Sunday, be heading for Divonne-les-Bains where they will have a five day training camp. The group will not include a number of youngsters from the academy who were not called up by Claude Puel. But he states: « Everything is still open, those who aren't coming to Divonne-les-Bains are not definitively out. There will be movement between the pro group and the CFA. This is a squad which is going to be alive, nothing is fixed in stone ».