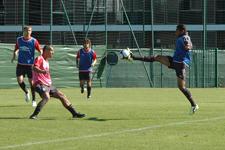 With Claude Puel having taken 21 players on the trip to Belgrade, only 11 players took part in the mornings training session at Tola Vologe.
Rémy Vercoutre and Anthony Lopes worked with Gilles Rousset, while the 9 outfield players, along with Sonny Anderson, had a physical warm-up session with Robert Duverne (leg work, groin work and sprint/stops etc.).

After some ball work where they alternated one and two touches of the ball, everyone finished up with a game on a half pitch.

Juninho and Ederson finished the session by working on their freekicks, the rest of the group with some stretching.