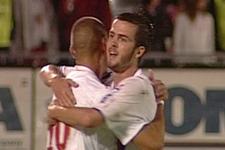 The players who took part in this years Euro, along with Jean II Makoun, played and won their first game of the season, away to Partizan Belgrade (3-1). Lyon's goals came from Govou, Benzema and a Sikimic own goal.
After this evening, the Lyon coach should be reassured about his teams physical level and their collective work, the « international » players, who only started back in training last week and did not take part in the camp at Tignes, would appear to be on the right track. On the pitch of Partizan Belgrade, OL's Serbian mirror image (Serbian League and Cup holders), their first match back was a success. Without really giving the impression of having to impose their talent, but showing attacking desire, they won the game (3 – 1). They were never really in any danger either, apart from when Diarra reduced the deficit with a side footed shot after a one-two with Paunovic just inside the box (39th), for their return to competitive action, they were never put under any sustained pressure . Lloris, whose broken hand seems now to be just a bad memory, had to be on form to push away attempts from Paunomic (5th), Diarra (15th), he then was able to watch efforts from Dordevic and Paumovic (42nd) fly over the goal, but Lyon's defensive block, on a whole, was compact and reassuring.

OL made the difference in the first half, scoring two goals in four minutes, both efforts deflected past Sikimic into his net. If the second really should be credited to Sidney Govou for the intention (22nd), the first, a perfect header into the top corner by Bozovic after a cross from Benzema, is the responsibility of the Serbian defender (18th). Two lucky goals that rewarded a lot of hard work that wasn't always successful. Benzema had already fired over (8th) then another effort hit Bozovic (13th), Pjanic himself came up short against the Partizan keeper on two occasions (21st & 27th). Karim Benzema, unusually, needed two one on ones with the keeper before finding the net. After having completely messed up his shot (42nd), the french international put away, with the outside of his foot, a one-two played with a Miralem Pjanic who was excellent throughout the 78 minutes he played with quality passing and a vision of the game that was fantastic (75th). Towards the end of the game, Clerc then Grenier saw efforts stopped by Bozovic (85th & 89th).

By nature, friendly games are there for the coach to get an idea about the health of his team. Claude Puel was certainly able to take home more satisfying thoughts than worrying ones from this trip to the Serbian capital : the good form of certain senior players, of Delgado, Pjanic, the understanding between Pjanic and Karim Benzema. He probably also appreciated the defensive cohesion shown in the second half by OL, apart from one slight error after a cross from Diarra (75th), OL's keeper didn't have much to do and worked a little on his coming out at feet (60th, 64th & 65th).

Tomorrow, against Nancy, the rest of the OL squad will take their turn to have a run out. Since the start of pre-season preparation, OL's record has been positive : two victories and one defeat .