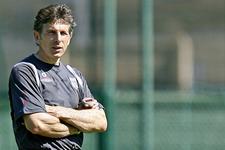 After todays training session, Claude Puel dropped into the Press room. 2 groups have been made up for the two friendly games in 24 hours...the majority of the internationals who came back on the 15 of July will make the trip to Belgrade...
How are you going to be dealing with 2 friendly matches in 24 hours?
« We have a large squad at the moment, with a lot of young players who will eventually go back to the CFA side. The older guys (Juninho, Vercoutre, Réveillère, Ederson, Bodmer), notably, who started in Bucharest will play on Wednesday against Nancy. That will give them time to recuperate. The international players who arrived back later than the others will be on the trip to Belgrade. It's good to have them back, even if they are a little behind physically. We'll be able to work on the tactics again. It will allow us to improve our game and to make some corrections. The international players came back motivated, they are conscientious and ready for the new season »

Wht does the game in Belgrade look like?
« It's good to have difficult friendly games, played in difficult conditions. It will be like that in Belgrade as it was in Bucharest. Partizan are a very good side ».

How does the treatment room look ?
« Fred is still having his tendinitis treated. Keita will be out for 3 weeks. He won't be training, even if he is keeping himself fit. He has to wear some resin on his forearm for it to solidify. Källström has a strain. He'll be back for the training camp at Divonne-les-Bains. As for Mensah, he is just lacking a little bit of training » .

When will you decide on the group going on the training camp ?
« After this week's 2 friendly matches ».