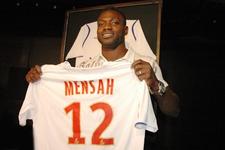 Olympique Lyonnais didn't waste time finding a replacement for Sébastien Squillaci, who signed for FC Sevilla last Thursday. With a notable difference: unlike the former Monaco player,
John Mensah
, who arrives from Rennes for
5 years
and cost
8,4 million euros
, plays on the left side of the centre of defence. This fact saves Cris from sliding over to the left, something that he does not appreciate very much. «
In the centre of defence, with Mensah, Cris and Boumsong, to whom you can add Mathieu Bodmer, who is capable of fitting in, we are set for the season
,announced happily Claude Puel, who was participating in his first press conference presentation since he arrived at OL.
There are no first choices and replacements. They are players who are polyvalent, who can play on both sides. There is no problem of complimentarity between them. I hope we will have a lot of games to play, matches in quick succession with, sometimes, suspensions and injuries. Three will be just enough
(central defenders)
to be performant throughout the season and in all competitions.
»
Just like Lloris, Makoun and Puel before him, Mensah had been in the OL scouts sights for a few years. «
I picked him out during the ANC in Egypt
(in 2006)
where he played really well
, revealed Bernard Lacombe.
He is a defender who is a lot like Cris
». A few minutes earlier, during the programme
OL System
, the president Jean-Michel Aulas explained this choice as a search for excellence: «
Our objective was to find the best defender – apart from Cris – in the League. We've done that! Michael Essien, who is also from Ghana, told us that Mensah was better than him , and that's saying something!
» Claude Puel seems to have been won over by the new recruit: «
He's a real defender, tough on his man, explosive, a strong header of the ball, quick and knows how to take his responsibilities as he was captain at Rennes. He's a very good signing
».
[IMG43329#R] John Mensah declared himself to be «
very happy to have joined OL
». «
Signing for a big club like Lyon is not easy
, he added.
I had some other offers but my agent convinced me to join Lyon. Playing alongside players like Cris will be a big challenge. When I played against Ol last season, I was impressed by the supporters and the town
». The former Chievo Verona and Modena, who didn't hide that the fact that OL participate regularly in the Champions League was a determining element in his choice of club, is the third Ghanaian to wear the OL jersey after Abedi Pelé and Michael Essien : «
They were important players for Lyon but I hope that I'll do better than them.
»
See the profile of John Mensah