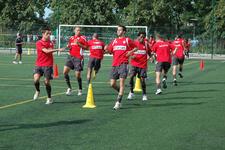 As the session for the official photograph was programmed for 11h30 this morning, the OL squad started training at 9h00. On the menu: jogging, physical work and matches.
Everyone started off with a « big lap » of Tola Vologe (around both « pro » pitches and the CFA field) then a long physical warm-up session with Robert Duverne : groin muscles, « sprint/stops », « leg worktalons-fesses », arm work, etc.

The group was then split in two: those who played against Rapid Bucharest on Saturday (1 – 2) played a game on a shortened pitch with small goals. A match for the rest of the squad as well but on a half pitch and for a longer duration.

Last week, Fred, who is suffering from tendinitis in the knee, did not train. This morning, he managed some light jogging.

It should be noted as well that Fabio Santos and Cris, who had been contenting themselves with some running, managed to train as normal today.

After the traditional stretching and a trip to the dressing rooms in order to shower and get changed, the players headed for the Palais des Sports de Gerland (the new pitch in the Stade de Gerland is still settling in) for the official photograph.