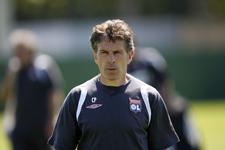 How did this first week of training with the international players go?
There was a lot of work done this week. We wanted to keep the group that had been in Tignes together and adding the internationals to that. It's a big squad but we manage to deal with it. We have done two different preparations. As far as the international players are concerned, the objective is to give them a real start to pre-season, which will be shorter than the one we had in Tignes. We're hoping to have a competitive side ready for the Champions Trophy and the start of the League, hopefully the whole squad will be on the same footing physically.

Do you think the international players will be ready for the Champions Trophy?
We'll see how they do in the friendlies. Some are in not too bad a shape and others still have to work some. We'll take stock when we have to. They won't be going to Bucarest tomorrow. They should normally come to Belgrade on Wednesday.

Are you satisfied with the players who were at Tignes?
My satisfaction lies in the team spirit that the group has shown. There is a good atmosphere, the work is done well. There is a group progression which is interesting in view of a certain philosophy of play. Now they have to put into work that which has been done in training.

Tomorrow, against Rapid Bucarest, the mtch will probably be a pit more difficult than the one against Nîmes last week(3 -2). Do you agree?
Yes I think so. We also have to build up our intensity and in terms of being a group.

Do you think the international players have been marked by their Euro?
They will obviously be asking themselves some questions but i twill soon settle down. They don't seem to have been overly affected by it.

Sébastien Squillaci has now left. Are you going to replace him? There has been a lot of talk about the arrival of John Mensah.
We're looking at replacing him. For the moment there is nothing to say. Mensah is a good player, who could be on our shortlist, but you shouldn't concentrate on one player.

Do you have any other needs? A left back for example.
The friendly games will allow us to see the complimentarity of the team. We have three players who are polyvalent (Réveillère, Grosso and Clerc). I'll be looking at the balance and seeing if Réveillère can be performant on the left. We'll also be looking to see if there is a youngster who could come in and back up Grosso.

Do you think that you will be letting either Fred or Baros go?
We have a lot of offensive minded players but for the post of striker we only have Baros, Fred and Benzema. There are of course the youngsters like Tafer and Grenier but these are players we need to prepare and bring up gradually. I'm counting on them. I'll be talking to Baros and Fred who have only one year left on their contracts, to see what we want to do. Afterwards we'll decide if it is sufficient or if we need to bring someone in.

And Sidney Govou?
Sidney has a contract with Lyon, he's a good player and I can't see myself letting him go as we need good players.

A number of players are injured at the moment. How are they?
Fabio Santos is coming back well. It's very gradual but he is progressing well. He'll soon be back in contention. Fred still has a bit of a problem with his tendinitis. It's not a big injury but we just can't say when it will stop hurting him. Cris is still a bit fragile with his knee, we will be getting it muscled up. We have to do things right, but he'll soon be back.