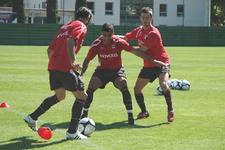 The morning session started off with a very physical warm-up session, with Robert Duverne, for all the outfield players, the three keepers (Vercoutre, Hartock and Lloris) did some specific work with Joel Bats.
The squad was then split into two groups:
The international players contiuing their physical preparation apart from the rest of the group: step, balance work, hurdle jumping, accelérations. « We haveone week to catch the other guys up, explains Jérémy Toulalan. It's hard but it has to be done ». On a small pitch, they worked on an exercise which mixed passing and closing down.

The players who were present at Tignes worked on direction changing with Robert Duverne.
They finished things up with a match on a half of the pitch and then a session of corners and freekicks. Tomorrow they will be in Bucarest for the friendly against Rapid Bucarest.

The international players will be spending the weekend working at Tola Vologe. They will take part in the friendly game against Partizan Belgrade on Wednesday the 23rd of July.

Cris and Fabio Santos managed to do some running. The midfielder is getting better. Soon both players should be able to take part in the group sessions.