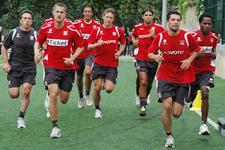 This morning, the OL squad was once again split into two groups: the players who took part in the training camp in Tignes and the players who took part in the Euro 2000 along with Makoun, who worked seperately.
The first group strated the session with a long fitness seance in the form of different workshops: finding their balance, jumping hurdles, step exercises, sprints…
They then put on their boots for a warm-up session based on passing then some work in front of goal. Afterwards they played a match which was followed by some stretching.

The international players concentrated on jogging, multiplying laps of the pitch followed by some abdominal work.

Fabio Santos did some running chronometred by Sonny Anderson. Cris contented himself with a few laps of the pitch. Only Kader Keita and Fred did not take part in the session.