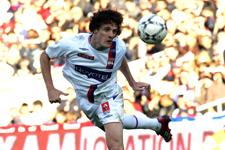 After Grégory Coupet to Atletico Madrid, the Liga has registered a second arrival from Lyon in less than two weeks. Decked out in his new kit that of FC Sevilla, Sébastien Squillaci was presented to the Spanish Press this afternoon.
In June 2006, the native of Toulon, nicknamed « Toto », in reference to his homonym, top scorer in the 1990 World Cup, joined the French champions, in a transfer from Monaco, with the goals of adding to his list of trophies and breaking into the French national side. These objectives have been thoroughly achieved: to French champions titles, one Coupe de France and a Champions Trophy have been added to the trophies section of his CV; 3 caps more and a presence in the group of 23 players selected for the Euro 2006 were added to the National team section.

A solid defender with a winning mentality, good in the air, he was for two sesaons, one of the OL players most used by Gérard Houllier and Alain Perrin. Record : 62 matches in League 1 and 13 in the Champions League, during which he scored 3 goals.

At FC Sevilla, the habitual card partner of Sidney Govou, Rémy Vercoutre and Abdel Rédissi will be playing alongside another former OL player, Frédéric Kanouté.