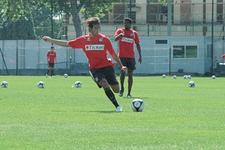 Todays training session was closed to the Press and Public.

After warming up, the squad split into two groups: those present in Tignes did some weight training while the 9 others concentrated on running, doing laps of the training ground, accompanied by Claude Puel. Before heading off to Seville where he will be passing his medical, Sébastien Squillaci also took part in the session.

The international players then worked on their passing, then stretching, with the rest of the group working in front of goal: under the orders of Sonny Anderson for the attacking players and Patrick Collot for the defensive players.

Fabio Santos, who is suffering from a sprained ankle, managed to do some running.

As yesterday, the Lyon squad will train twice today. The next session is scheduled for this afternoon at 17h30.