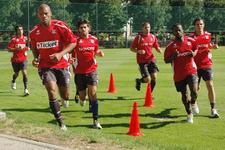 Those players that took part in the Euro 2008 returned to Tola Vologe this morning.
Källström, Govou, Boumsong, Toulalan, Benzema, Clerc, Squillaci, Grosso and Baros, as well as Makoun who has been playing in qualifying matches for the 2010 World Cup, brought the number of players in ther OL squad to 31, the group is a mix of pros and youngsters from the youth academy.

The absentees were : Fred (tendinitis in the knee), Cris (recuperating), Fabio Santos (sprained ankle) and Keita.

Fred contented himself with some jogging, accompanied by Sonny Anderson. The rest of the squad started the session with a long period of endurance work overseen by Robert Duverne along with a physical warm-up. They then moved onto some work with the ball, a light session based on passes and juggling.

The session finished up with some abdo work and stretching.

The players will be in training again this afternoon.