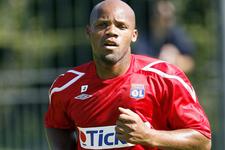 The international players got back into training this morning. How did it go?
Well, it was good to get back in contact with our teammates and the sensations of being a football player. I'm really happy to be back. We also have a new coach, he's not really loud but he made it clear how he intends to go on. There are also some new faces; it's all the charm of a new season. We have a good squad, we'll get to know each other but we'll have to do it quickly: we have to concentrate on working well and it's through this that we'll get to know each other quickly.

There could be some more arrivals and some players could leave. Is the squad asking itself questions at the moment?
We shouldn't. It's always like that at the start of a new season with things very clear for some players and not so clear for others. You just have to work hard in order to be ready. We'll be building up the work load. Personally, I feel good; it went really well this morning. The League starts in just under a month, we, the international players, should be ok but we'll have to keep a daily eye on our preparation.

Are you keeping abreast of the situation concerning Toto Squillaci, who plays in the same position as you?
No, as any departure will be compensated for with an arrival. In pre-season you have to be egotistical: you have to work in order to be ready physically. You don't ask yourself too many questions.

The OL squad seems to be younger than it has been recently. Does that change things?
Youth has its advantages, notably freshness. The young players will have to bring along their naïvety, their carefreeness and their folly. We need their talent, their enthousiasm. All this is necessary as long as it's surrounded by wisdom and serenity. What do you think this season will look like?
It will be interesting. OL owe it to themselves to hold onto their title; Bordeaux will have to confirm last season's form; Paris will not want to be in the situation they have been in for the last two seasons; Marseille will want to do better than they did last season. These are the four sides that will be fighting for the title. Nancy will also be trying to prove they are at their place. I think it's going to be a really interesting season.

With, perhaps, the ambition to go further than former seasons in the European Cup for Lyon?
You always have to progress. Even if, results wise, a season can be less good than the preceding one but still interesting for the future. The objective will be to keep our title but, in Europe, it would be good to see OL try and go a lot further than the quarter finals. But the Champions League is a difficult competition; you have to have a bit of luck in it as well. We'll be working hard and hoping that providence will be on our side.

Did the holidays allow you to get over the disappointment of the European Championships?
Yes, as I made a complete break; I wasn't at all aware of what was going on in France. The Euro was disappointing but as you say: « one step back two steps forward ». My objective is to be in the French side, to bring something to the squad. We'll soon be starting the qualifying matches for the 2010 World Cup in a group that is not easy at all. Afterwards, there will be the finals in South Africa and I really want to participate in that.