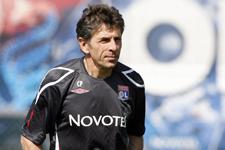 A Friday afternoon press conference, just before the last training session at Tignes...and Saturdays match against Nîmes in Albertville. Claude Puel and Juninho answered questions from the Press...
For OL's coach , the training camp has been very positive. « First of all, it's not finished yet as there will be a game against Nîmes. But the squad have worked hard; everyone participated in a very good atmosphere. Despite the age differences, everyone got on well. This work was very important; you have to be ready physically for the start of the season. The youngsters behaved themselves. I'm not expecting any miracles on Saturday after the amount of work they have put in. We will have to find a certain coherence on the field and play the game seriously. They have to follow instructions. All the players will have a certain amount of playing time, around a half each ».

Concerning the slight knocks taken during the week, Puel indicated that Réveillère and Fred would be back in training with the squad next week. They will be left out of the squad for the friendly game. What about Fabio Santo? « His was the most serious problem. He's better. He will go through some extra medical tests in Lyon. I think he will be away from the squad for about 10 days ».

The OL squad will be given 2 day rest after the friendly game. On Tuesday the 15th of July, the international players will be back. « We've done our first stage of preparation. We'll be working hard to get the international players up to level for the start of the season. It's never easy to break pre-season preparation up into two sessions, but we aren't going to complain. It's the lot of all big clubs ».

Of course, the transfer market was talked about. « It will close on the 31st of August, the same for everybody which is a good thing, even if I don't like the fact it is still running even though the season has started. News? I don't generally stoke rumours or to give away what I am thinking. The midfield ? (smiling) We have solutions there. Full back? Anthony, François and Fabio, there's enough talent there for the season. Afterwards we'll see if we have a youngster that we can count on or if we need another solution. We're thinking about it ».

After the manager it was the turn of Juninho, one of OL's captains. « Juni » spoke of his motivation, his passion. « I love my job. I still have hunger. I hope I can play another two seasons. At OL, with all of our titles, we have to be much more humble. » What about the new coach ? « I don't want to make any comparisons with the past. I think he will be looking for a team of warriors; a type of team spirit that we were lacking at times last season. We've worked hard during the training camp; physically and tactically. He wants a united team just like at Lille, a team that also knows how to play without the ball. We were missing that as well. Our system ? We've worked on a number of systems. Afterwards, it's up to the coach to make his choice. There are always solutions. I'm sure we'll have a number of ways of playing. My role? I haven't had the time to discuss much with the coach. I'm just getting ready to play in the next game. If I'm not in form, then it is normal that I don't play, even if I've always played frequently since I've been at Lyon. I want to be decisive at important moments. Do I want to score goals to make my stats look better? Yes, I do ».

What about the captains armband ? « It is important for me. I like this responsibility ». Time? « It's something that you cannot control. Yes, I'm the oldest member of the squad since Greg, who should be thanked for all he did for the club, left. Yes, I'm getting closer to retirement. It doesn't bother me too much. It proves that the club is evolving; it also proves the value of the youth academy. What about more responsibilities ? I've already taken on a lot, it won't change me. Players have to accept their responsibilities. A winning team is a team that shares its responsibilities . OL's jersey means a lot today ».

And to the question « will you be an OL player this season », the Brazilian answers unambiguously. « Anything can happen between now and the 13st of August; it's football. I'm happy at OL though; I don't want to leave. The President wants me to stay which is important. I do have contacts (Qatar, Japan…). But whatever happens, I won't be going to Liverpool… All possibilities are open until the 31st of August ».