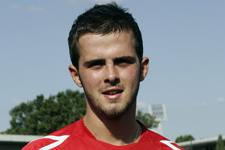 Miralem Pjanic is a young player only 18 years old who made his debut in League 1 last season with Metz. He is discovering his new working enviroment… 3 questions for the Bosnian…
What do you look to achieve at OL? ?
« To progress, especially on a physical level. I need to stengthen up. And with the environment we have, the coach we have, I can only progress technically and tactically. I'm not afraid to take my responsabilities if I'm called upon. I had some other contacts abroad, but I did not hesitate when OL showed their interest. Since I've been here, I haven't been disappointed".

Can you tell us about your personal history?
« I was only one year old when my family left Bosnia because of the war. We moved to Luxembourg. My parents both found work. My dad, Fahrudin, was a footballer in the Yugoslav 2nd Division. He was an attacking midfielder as well. As my mother was working when we got to Luxembourg, he had to take me along with him when he went to training. I was 5 years old. So I've always beenaround football. Then I started playing with my friends, then for a club in Luxembourg before getting into the youth academy at Metz. I feel a bit French ever since. Play for Bosnia? It should happen pretty soon. The supporters, well they are really fervent over there ».

Your favourite gesture on the pitch?
« A good pass between defenders into space for the forward. Free kicks? I've always been used to taking them. I like it. Last season I scored some penalties with Metz ».