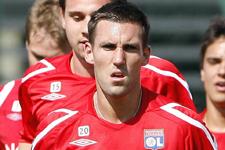 Anthony Réveillère is one of the longest standing members of the OL squad, arriving during the summer of 2003… A slight strian to his calf is making him take care… Question time with « Antho » under the sun of Tignes…
Anthony how is the training camp going ?
« Well. It's not easy as you have to suffer in pre-season. When I was younger, I wasn't particularly good. I've progressed physically. It's not easy for me, as some could think as I run quickly, I am endurant. That's all down to hard work. During my holidays, I made a clean break. I relaxed, concentrated on my family and getting away from things. I've already had holidays during which I worked, but I didn't profit from it any more. My calf? I felt a pain there on Sunday. I had a scan which didn't show up any big problems. It's just tendinitis. It hasn't stopped me working inside, working on the bikes so I don't lose everything I gained from the camp ».

If we say « competition » to you, what would you say ?
« It's normal, but not always easy to live with. I can accept it as long as everything is clear right from the start. I still prefer playing constantly and I don't like being taken off when I'm playing well. Last season there were certain moments that were difficult even if I did play all the games at the end of the season. I like the idea that the best player is the one who plays. It's true as well that I can adapt to other positions, playing on the left for example. I did it a few times last season. But I prefer playing on the right. His rival? Whatever happens he is still a teammate, a member of the squad. He's not an enemy. Afterwards, as in any group, you get on better with some people than you do with others. It's normal ».

The everchanging coaches at OL?
«With the arrival of Claude Puel, it's my 4th coach in 6 seasons. You have to adapt, even if football stays football. Everyone has their own way of doing things. But we know what the President's looking for. He wants the club to progress and each change of coach must permit the club to get better performances ».

At Tignes, do you think a little more about the National side ?
«Generally I don't focus too much on the subject. Of course I'd love to get back into the French side. I played a part in the qualification games for the 2006 World Cup but then got injured early on in 2006 so it was difficult to keep my place in the squad. I'm concentrating on my club. Afterwards, if you are playing well enough, you can receive a call-up. »

To finish up, what are your best and worst memories with OL ?
«The best, its last season's Double as things weren't easy all throughout the season. The worst? Even if you leave out Mancini, it's the defeat against AS Roma. Lots of things didn't go right in that game. It was a big disappointment ».