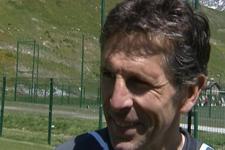 The afternoon session was given over to ball work with Claude Puel and Sonny Anderson overseeing proceedings...
A warm-up session with and without the ball for the outfield players. Fabio Santos, Fred and Réveillère were still absent. Anthony did some work on the bike. At the same time the 3 goalkeepers worked with Joël Bats who demands, despite the obvious fatigue of his pupils, aggressivity, and to not let go. And him? « Me, I'm giving you the best balls I can … ». The stamina and the legs are being worked hard; the keepers leap all over. When the rest time comes around, it's appreciated!

After this start to the session, 2 groups are put together for 2 different workshops, each in front of goal. One with Sonny Anderson who makes them work on shooting following different situations. The former OL striker is applauded by his compatriots Cris and Juninho when his demonstration finishes up with a goal. « What a teacher… ». Evidently, Cris is delighted.

The other group with Claude Puel works on different principles of play (deep passing, switching play, outflanking, playing back through the team …) he also asks his players to finish of these actions with shots. Each group will do each workshop.

An afternoon that finishes at around 19H00 after a stretching session.