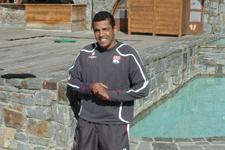 It's official, "Sonnygoal" is now part of Claude Puel's staff. The Brazilian is obviously delighted with this decision...
Claude Puel announced it this Thursday afternoon. "Sonny is part of the staff. He will be in charge of the attackers in the squad but also those from the Academy". Sonny will be present and active at training sessions. "It's new for him, of course he'll have to get used to and to grips with the post. We'll work together at it".

OL's former number 9 is delighted. "I'm happy to get back out on the pitch. In coming back to OL it's what I was looking for. I'm going to be working with the forwards, pro's and youngsters from the Academy. I'll be talking to Claude about the different exercices and the way to go about them. It's a new experience for me. I've known Claude since I was at Monaco. He's rigourous, concentrated, he'll help me and the club a lot...". That about sums up what Sonny had to say, he will still keep his position as President of the OL Fondation. "Definitely, I'm very attached to the post".

If he can certainly show the way to go with the ball, Sonny has also decided to get his fitness levels up. "I've profited from the training camp, even if my objective is not the same as when I was a player".