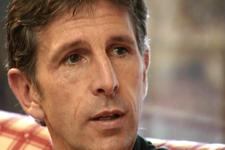 It was a day for the media at Tignes, with Claude Puel, Pjanic and Ederson answering questions. The 3 members of the OL set up spoke to the assembled journalists before the the 17h00 training session...Here is a resumeé of the statements of the first two...
OL's coach Claude Puel was the first to answer questions. He spent nearly 30 minutes with the journalists. To resume, he spoke about the training camp. « The bodies are suffering, but it is important for the rest of the season. The work his mainly fitness based during the day. The players are there to build up their stamina. It's a very tough camp, and the players need to recuperate and sleep. Why am I taking part in the sessions with the players ? Because I enjoy it, it also gives me a better idea of how things are going. It's also an observation camp for me, whilst at the same time knowing that the international players are still missing. I'm waiting to have the whole squad together before talking about objectives. That doesn't stop us discussing things though. Each thing in its time though. The ground rules are slowly but surely being put in place .It's happening without any problems. There are rules on and off the field as in any other squad ».

A strange start to pre-season ? «Yes, but we're not complaining. Ideally we would have started with the full squad. That will be the case as of the 15th of July. There will be another training camp from the 27th of July to the 2nd of August. We're going to have a tough time getting everybody fit ». Training camps and friendly matches ? « We have some interesting friendly games organised, it wasn't easy to work out. Playing away from home will allow us to get to the heart of the subject straight away ».

In answer to a question about his way of working with his staff, Claude was quite clear. « I will work as I always have and I don't have to explain myself in any way ». The former Monaco player hopes to keep up the level of excellence as far as the style and the results are concerned with a balance to find as well. « The best thing, it's to have 22 to 23 players plus the youngsters coming through. Afterwards that can evolve. Juninho? We've spoken about the article that appeared in l'Equipe. There is nothing in it. Squillaci? We'll be speaking to Toto about it. There are ongoing discussions between the two clubs (FC Sevilla & OL). If he left then we would be looking to bring someone in to replace him. Bodmer? I don't think that he has done all he can with OL. I'm more surprised by the Parisian offers they seem to have found buying possibilities ».

With such a large squad, is it difficult to make choices ? « It's always difficult no matter where you are. It's never easy on a day to day basis. The captain? We'll see. You know the options. We're not there yet ».When there is a question concerning the system he plans to use, he is also very clear. « The style or system of play is not important to me . I think that OL are capable of playing in a number of different configurations, depending on the players that are put out. At the Euro, I didn't see anything new. To sum it up, it's not good to be focused on one single system. Ambitions? Quite frankly, for the moment I'm incapable of saying what level we are at and where we will be playing. We'll see that with the games that we play ». In conclusion, if the training camp is not the only parameter, Claude has the formula for success in a season: « Everything is important if you want success in a season, including this period ».

As far as the new signings Pjanic and Ederson are concerned, they both stated their happiness at having signed for OL where they have both been welcomed as explained Pjanic. « Everything is going really well. Pre-season training is difficult, but it's necessary in order to be in top form for the season. Who am I with the most ? I like to hang around with Kader Keita; he makes everybody laugh. When I was at Metz, I often hung around with the Blacks » The youngster Miralem Pjanic has come to OL to progress in a number of domains. « I am part of the best French club; I am alongside talented players; I'm young… I just have to learn, work hard and be ready if the coach calls on me to play . What impressed me as well at Lyon was their line of thought. I think I was still too young to go abroad ».

The competition ? «I'm not scared of the competition. We have a long season in front of us and there will be a lot of games and competitions to play in ». What is the Bosnian's favourite position ? I prefer playing in the centre of midfield, just behind the striker, but I can also play out in the left ». A huge fan of Zidane who he considers to be the best player of all time, he admits that he watches the players and then tries to reproduce certain of the their technical gestures. « I try them out in training and then in matches ».

In a few weeks time he could also pull on the the Bosnian jersey . «There is just one document that I have to sign. I will give my all for this jersey as I will for the one of OL. » At 18 years of age, the only thing that scares him in this lifestyle change is his day to day life. « My parents will be with me a lot of the time at the start. For example, my mother knows that I cannot cook ». It's just like everything else Miralem… you learn. God seems to have given this young player every chance of progressing to the highest level of football. « Footballer, is one of the most beautiful careers in the world ».