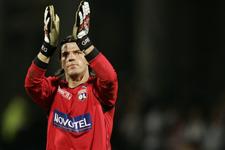 Greg announced his departure just before the final of the Coupe de France, this time it is official. The nuance is very important. Nearly 12 seasons spent in the same club, an eternity marked by great progress and great success…how can we forget…Goodbye and thank you Champion...
Allowing ourselves this last reminiscence seemed a normal way of thanking you for all that you have done for OL since January 97. OL is an Institution that is becoming more and more recognized an appreciated. You, over the course of time, became an institution within the Institution. Keeper of the temple that you wanted to preserve more than anything, alongside your different partners, or in some cases, your brothers in arms. Not only in the shape of extraordinary saves, match saving dives, timely tackles and an imposing presence. We could go on for hours about the quality and regularity of your performances. Whether it was one single save in the game, or two or three … or the festival against Blackburn, Bayer Leverkusen, against Nantes, in Barcelona… The list is not exhaustive.

Not only, because behind these gala performances, this scene of stars sometimes over illuminated, there was hard work, joie de vivre, desire, concentration, tenacity, pride, the demands, intransigence, passion, lucidity, the need to surpass oneself, recognition, the memories, the behavior of a real sportsman, a man who refused half measures, failure and regression. « I cannot accept weakness in me » you said in November and December last year when you were working as hard as you could to get back to the top level, your level, after your knee operation. All of this in the public eye. What pleasure to see you sweating alongside your mentor « Jo » whilst doing specific goalkeeping work. What a lesson in life , following you throughout your physiotherapy. You make people want . That's it, you made us want to do as much, a tour own level. Without jealousy . A model, a real reference.

In an environment where things are generally kept quiet or distorted, you chose to speak freely , not always affable, but always in harmony with the feelings of those on the outside. Words sometimes like those of a boxer who needs to evacuate the excess of disappointment. No matter if certain statements go too far. No matter if it caused waves and wasn't exactly « corporate ». You accepted responsability .

Saves and words. Happiness, as well, handed out when you took the time to give the supporters some of your time. « It's thanks to them that football exists, that we exist. And you know, we are so lucky to be in this line of work ».

Wonder, surprise, curiosity, in order to grow, grow naturally rich. Greg is insatiable about life . Why do things anyway other than completely? And this almost permanentsmile, a fact which caused certain people to doubt its sincerity. Sometimes the mask just as respectable. Youth, enough to have some left over; youth which doesn't care about a date of birth, something that is all too often pointed out in France, especially for professional sportsmen. The sensitivity that was just behind your knight's armour.

518 matches for Lyon. 7 titles as Champion of France, 1 Coupe de la Ligue, 1 Coupe de France, 1 double, 5 Champions Trophies, 1 Intertoto Cup, more than 30 caps for France. First choice keeper from his first to last match. Great progression, then consistency in his performances, some injuries including a last one that was quite serious, so few mistakes that we could count them on one hand. An incredible record !

At this farewell and wishing you good luck with your new club, we have trouble reaching the level that you have attained. We'd love to better ourselves, invent words especially for you , to give you this gift, you who have given us so many. The best personal effort? Just to say to you, thank you, to shake your hand and to catch your eye so that you understand that we will not forget .