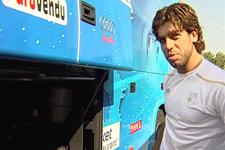 After leaving Lyon a little later than planned, the squad arrived in Tignes at 13h30. They took up their habitual quarters in the Hotel Village Montana...at around 17h00 they will head out for a walk in the mountains...
The good weather was out for the arrival of the OL squad in Tignes. Unfortunately storms are forecast in the next few hours. The team bus had a rough time making it up the mountain roads, just the time to drop of the players and the material and the bus had to be changed. Quickly taking possession of their rooms the squad then had lunch. A little after 14h00, they had finished. Kader Keita has joined the squad bringing the total number of players present in Tignes to 25. A little rest before the efforts. The staff stayed together,no doubt, to talk about the trainingcamp.

At 17h00, they will be heading out for an energetic walk in the mountains with their destination being the Val d'Isère station. A little news about the pitches. There are now two; the old pith has been relaid and there is now a synthetic pitch as well. On the banks of the lake, the annual Beach Soccer tournament is in preparation and a few of those present are known to certain members of the squad, people like Castro or the former keeper Aubry. Looking up to the heights there is snow on the glacier, good news for ski enthousiasts even if it is the summer. The sky clouds over just as the players leave for their walk and the rain has finally shown its' face.