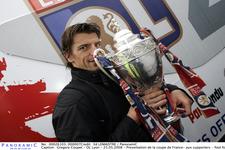 OL's administrative director has agreed to talk about the transfer of Grégory Coupet to Atlético Madrid. He seems confident about the outcome of the dossier.
Marino, where are you with Grégory Coupet's transfer ?

The negotiations with Atlético Madrid are back on even if we haven't received any new proposals from the club. We're ready to start talking about their last offer (1,5 million euros). We just hope that they can provide the financial guarantees for the transfer. Today, we can be pretty optimistic about the transfer of Grégory Coupet to Atlético.

Last week the whole thing looked like it had fallen flat on its face …

It's true that, last Friday, negotiations broke down. I'd like to just clarify the history of the transfer. Last year, Grégory Coupet signed a contract extension which ran until 2010 which included a clause allowing him to leave OL for a transfer fee of 3 million euros. Atlético Madrid showed their interest after the elimination of the French side from the Euro 2008. At the end of our first meeting with them just over a week ago, they came to us with an offer of 250 000 euros. A figure that showed a great lack of respect for Grégory Coupet. In order to facilitate the transfer and go the way Greg wanted to, as Jean-Michel Aulas also wished and made very clear, we decided to revise our position and halve the transfer fee. But, last Friday the negotiations broke down once again as Atlético Madrid refused to give us the bank guarantees.

The Spanish side seemed to have changed their mind.

Quite right, we learned that Atlético wanted to reopen the dossier. All that it needs is for the Spanish side to understand that we need these financial guarantees. This club has been floated on the Stock Exchange and we cannot be allowed to build up a schedule of repayments without guarantees to back it up. So, if we manage to come to an agreement on this point, we can imagine that Grégory Coupet will be a Madrid player very soon.