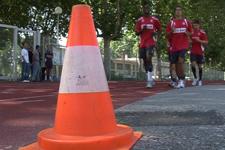 A session on the athletics track at Gerland on Tuesday morning before some stretching and abdominal work. Just afterwards, Hugo Lloris spoke to the media...This afternoon, back to the playing field from 17h00...
Running tests just after breakfast will wake up the sleepiest of heads. « You have to try and go to the end of your capabilities; there is always a barrier to break and you can often be tempted to stop at around the fifteenth minute … ». Robert Duverne gave his last instructions before the OL squad started this famous test which consists of running for the longest possible amount of time whilst building up speed with the tempo given by a stopwatch and a whistle. At this little game, there are the tough guys and the others. Claude Puel took part in the exercise, finishing amongst the frontrunners. Cris through the following remark at the winner: « you're ready, you can go to Beijing ».

Back at Tola Vologe, Robert Duverne took control of a long session, over 20 minutes, of sit-ups, stretching, and press-ups. After a shower, Hugo Lloris stopped by the press room

[IMG43282#L]So, how did it go Hugo ?
« Well. It's all about the squad making contact. I was looking forward to meeting everyone, discovering the club, getting to know the youngsters from the Academy. I've been accepted very quickly. We're in a very important period at the moment. In Tignes we'll be getting ready physically but also creating links within the squad. It's important for the rest of the season. What did Claude Puel say? It was simple. He told us we were there to discover, work and progress. The fact that he took part in the sessions? It was cool, he's a former midfielder, but he already had my respect. I know he is a great coach. Joël Bats? Our first contacts have been good. I have no worries ».

A word on the situation concerning Coupet ?
« I'm not thinking about it. It doesn't worry me. It doesn't concern me. I came to OL to replace him, but that doesn't mean my place is assured. Number One, that doesn't really mean anything anymore. You have to prove yourself, to progress. The comparisons with him? If people want to compare, that's up to them. « Greg » is a monument; he is part of OL's history. I'm young and ambitious. I came to OL in order to progress and win titles ».

Is OL a stepping stone for you ?
« I do not see things in terms like that. AC Milan? I had to make a choice and I made it. I do not regret anything. You have to assume your choices. OL was the best option. The 2010 World Cup? It is one of my objectives, but first of all I have to play well for OL and quickly. Domenech? I have too much respect to talk about someone I barely know. And anyway it's not up to me. Getting back to OL, it's a big club but with a small family atmosphere of work and discipline. I like that ».[IMG43281#R]


Has your right hand healed ?
« I picked up the ball yesterday. I'll be having an x-ray on Tuesday afternoon. I worked over my holidays with a physio. I'm still lacking a little strength in my arm, but I'm not worried ».