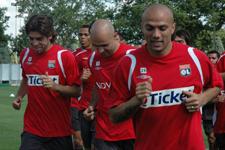 Monday 30th of June, first day back in training at Tola Vologe...At around 16h03, the squad got back out onto the pitches with the new faces but without the international players...a session that lasted 90 minutes...
The players were expected at 15h00. Claude Puel, then the president Jean-Michel Aulas spoke to the group before the latter left to deal with his first problems of the season. Obviously there are the new faces like the coaches Claude Puel and Patrick Collot; or those of Hugo Lloris, Honorato Ederson, Miralem Pjanic ; or the more well known one of Fabio Santos; then the lesser known faces of the numerous youngsters like Tafer, Grenier, Mehamha, Valdivia… All that was missing was the international players who are recuperating after the efforts put in during the Euro or the qualifying matches for the ANC and the next World Cup (Keita and Makoun). As for Ben Arfa, he was absent.

Everything then started off with laps of the pitch along with the entire technical staff. Then there were some physical exercises « overseen »by Robert Duverne, then another round of laps, this time in two separate groups. One assessment? Claude Puel is still in form and set the example. No question of faking … the OL squad got straight into the thick of the action. At 17h 15, out came the boots. Keepy-ups, running with the ball and passing under the first commands of Patrick Collot. At 17h 40 they started a long session if stretching. A 18h00, it's all over. The OL squad will be back together for medical tests and track work tomorrow morning, before getting back out onto the field in the afternoon.