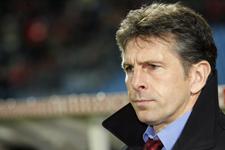 Second part of the interview given by Claude Puel to OL TV. He talks about his functions as General Manager, his objectives for the season and the links he wants to build up between the pro group and the academy.
A week into your tenure, do you have a better idea of the organisation of your technical staff?
Yes, I decided to carry on with the group that was already in place last year as I knew the majority of them anyway, I have a good relationship already; and they have proven their competence. I had no reason to make any big changes. Patrick Collot who was my assistant at Lille will be joining me. I've also been speaking with Sonny (Anderson), I'll be looking at where to put him, whether he work with us on a daily basis or be part of the recruitment staff. I'll make my decision in the next few days. It was important to find out what he expected and what his preferences were.

The role of a General Manager is different from the roles held by your predecessors who had to drive the « Formula 1 OL ». How would you define your role?
We have a great squad but for the moment we are in pre-season and there are a number of questions hanging over us as we have a team and a squad to rebuild. There are a lot of things to be dealt with but I like these kinds of situations where I'm not just sitting in the driver's seat, I like to make my mark. With my staff, we have the job of putting together, I hope, a good team that becomes a great team.

In other words, you are more Jean Todt than Michael Schumacher?
(Laughs) That about sums it up. I like that.

Have you fixed yourself any objectives? The League? A cup? The Champions League?
In any season there are always objectives. When you go into a competition, you want to go all the way. We owe it to ourselves to win titles, we are well aware of that. There are objectives but what interests me is how to go about achieving them. As far as I'm concerned that is the most important. Rather than saying: « I need this, I need that », I like to ask: « what do we need to work on? How should we evolve in order to progress and become a competitive side? »

How will you be working with the academy?
I will not be taking care of the academy. Jojo (Georges) Prost, who I know very well as he was my coach for over a year at Monaco, is in charge of that. But it is important to keep in touch with them, let them know what I expect from a youth player when he comes to train with the pro squad, build a lot more bridges, more contact between the pro group and the academy. I've always worked like that, whether it be at Monaco or with Lille, and even if results are a lot more important at Lyon, it's important to be able to count on the most talented youngsters and prove to them that they can have their chance, even at Lyon.