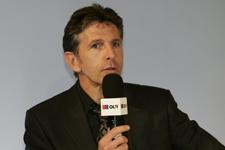 First part of an interview given by Claude Puel to OL TV. The new General Manager of Olympique Lyonnais talks about his contact with the squad, pre-season training and the squad situation.
One week ago, you were named General Manager of OL. How is your adaptation going?
"It's going well. It takes a lot of work to get to grips with the workings of a club, to meet the people there and see them at work. I'm sollicited from all over the place, for getting next season prepared, the preparation of the friendly games and training camps, all these important things that were not able to be taken care of (before his arrival)."
What has your contact with the squad been like?
I'm just getting to know my players. I'll get to know them better and they will get to know me through the way I work, my coaching, in my way of going about as a manager. I ask for respect, as I have a lot of respect for the players, normal working relationships, rules and life in the group, that's all. At the start of this coming season, and especially during pre-season, what is important is to feel cohesion within the squad, that they get on. It's during pre-season that the basis of a team and a squad is born.
What does pre-season look like?
It's a shame that we cannot have everybody together in Tignes; those who have been on international duty only come back on the 15th of July. We'll be having two different preparations, specialized, focusing on certain things. It's a shame that we cannot work on the automatisms before this date. The good thing to come out of the first training camp (in Tignes) is that we will be able to get an idea about the kids from the academy, so that we can get to know them better and bring them into the pro group. We'll sit down and talk to the players individually after the first training camp. But we have to show them, through their presence, that we have an eye on them and will do throughout the season. We then most likely have a second training camp, as we finish up the pre-season preparation. We have to get the international players ready for the start of the League in a short lapse of time despite all they have been through. That's the problem we have at the start of the season, but it's like that in all big clubs.
A training camp in the USA was talked about at one point.Has that been forgotten about?
Along with the president, we decided that going ahead with it would cause problems and be dangerous as far as our preparations went, notably for the internationals who only come back on the 15th of July. They would not have any intensive fitness work behind them. We wouldn't have been putting ourselves in the best position in view of the start of the season. At times like that you have to give privilege to the sporting aspect and on fitness levels as we are under obligation to get results. There will be no tour, but some interesting friendly games.
An eventual departure of Sébastien Squillaci has been mentioned a lot by the Press recently. Have you had a chance to talk to him?
He's seriously thinking about it, he's told me. He's a player that I know well, I know him from Monaco. We know all about his quality and his mindset, both of which are very important. For the moment he is with us. One club in particular is interested in him but nothing is set in stone yet. As far as I'm concerned he is still a Lyon player. We'll see in the next few days how things turn out. If he leaves then someone would come in to replace him. I don't want to go into any details, to speak about everyone individually but there will not be any big changes. Some players might want to move away but that doesn't mean that they will be replaced as we have a squad that, in certain positions, is well furnished. Things will be done case by case.
When do you want to be finished with your recruitment?
I'd like to have the group sorted out bu the end of July. Even though the window is open until the end of August, we can always put finishing touches to the group. Waiting too long for potential transfers could be negative for the start of our season. So we'll try and have it sorted out by the end of July. The objective is to build a squad that is coherent and competitive.
See the Claude Puel interview (1st part)