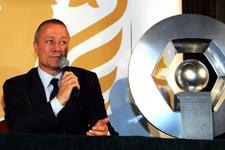 One week before the start of pre-season, Bernard Lacombe talks about OL's dealings in the transfer market but warns: "don't forget we have until the 31st of August; a lot of things can happen between then and now".
When he took up his position on Wednesday the 18th of June, Claude Puel spoke of his desire to « balance » the squad. How is that coming along?

At the moment we have a lot of midfielders; we're looking at getting rid of some of them. But in order to continue the performances of the last few years we need a large squad, as much as in talent as in numbers. Along with Claude Puel, we'll be looking into this problem but don't forget we have up until the 31st of August; a lot of things can happen between then and now … Today we have a full squad. The only position we do not have two players for is left back, but Anthony Réveillère can play there as well. Pjanic, Ederson and Lloris have already signed, these are players with a lot of talent but it is always difficult when you change clubs: the truth comes out on the pitch.

There are rumours in the Press that PSG are interested in Mathieu Bodmer and that FC Sevilla have made offers for Kim Källström and Sébastien Squillaci. Is there any truth in that?
PSG have not made the slightest offer for Bodmer. One club has made us an offer, it's FC Sevilla, and it concerns Sébastien Squillaci. All the rest is just made up by agents and journalists. When you compare what is said in the Press and what actually happens, there is quite a difference, it's two separate worlds. We are trying to put together a squad that will win things. Winning the title and one of the two National cups would be fantastic. On top of that we want, one day, to win the Champions League; but that is another matter. It will take the time it takes but I hope we manage to win it one day.

Hatem Ben Arfa to Marseille is also being talked about…
For the moment, in view of the figures being talked about by Marseille, it's a non-starter. Hatem will be with us next season unless the offer is much bigger. It's better to keep your best players rather than strengthening another French club unless the money is right.