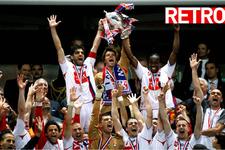 There are certain months that can mark a season. Moments that can change the destiny of a club.
OL are in form for their last two games of the month. A large victory against Auxerre in the last League game, guarantees them their seventh League title in a row and a goal from Govou in extra time during the final of the Coupe de France offers them the first Double in the history of the club.

During the second half of the month of May, OL could have lost everything: their title of French Champions and their hopes of lifting the Coupe de France which had eluded them since 1973. At the end of the day, OL won everything: a seventh title of French Champions and a 4th Coupe de France which they added to their victories in the Peace Cup and the Champions Trophy. OL's supporters were in expectation right up until the last minute of the season.

As the president had wished, Lyon first of all assured their seventh League title in a row . Such was Jean-Michel Aulas's priority. During the last away game of the season against Auxerre, OL's president and their supporters were quickly reassured with a first goal straight from the kick off by Karim Benzema. The 20th goal of the season for the League's top scorer was all the sweeter. Fred then Kim Källström killed off any suspense at the Abbé Deschamps stadium before Thomas scored a consolation goal at the end of the match. Their happiness was a joy to behold.

The celebrations would be even crazier a week later at the end of the Coupe de France final. This time around, it would be after extra time – just like the Coupe de la Ligue final in 2001 – that OL would win the good old Coupe de France. Sidney Govou marked a littlle more the history of the club and offered Gregory Coupet a finale that his efforts over the years for the club deserved: huge and fantastic.