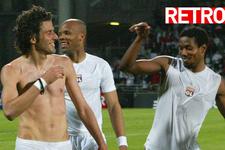 The month of May marks the start of the final run-in. Lyon are still on course for their first historic Double: League - Coupe de France.
For that to happen, Alain Perrin's men must get through this first half of May in good fashion.

Lyon-Sedan. Not particularly an exciting match but it is however a decisive match that OL will play against this second division team on the 7th of May at Gerland against CS Sedan. The victory will take a while to come around. The qualification for the final at the Stade de France will be all the more beautiful. One solitary goal in the game, but what a goal! A magical free kick from 35 meters out, Juninho offers OL their first Coupe de France final since 1976. A joy as big as the wait was long.

A single goal was all that they needed three days later in a decisive game at Gerland. OL welcome this time around AS Nancy-Lorraine for the 37th League game of the season. Cris and his teammates now only have a two point lead over Bordeaux after their frustrating draw –Juninho and Jérémy Toulalan hitting the uprights– at the Stade du Ray against OGC Nice.
Another set piece from Juninho forces an own goal by the Brazilian André Luiz after an hour of play and OL have made another step towards a seventh title of French champions in a row. The last half hour of the game will be long and Nancy, fighting with Olympique de Marseille for third place, come very close to equalising.
For their last possible chance, Grégory Coupet is up to the task . Lyon have their 24th victory of the season and are more thane ver on course for a League -Coupe de France double. Now they just have to win the last two games of the season in order for the month of May to be a great success.