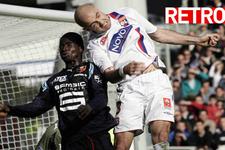 1 point taken from 6 possible. The outcome of this first half of April is not the best.
« In April you must cover up », says the proverb. It's a bit easy to start like that, OL and Juninho did not respect the orders and nearly paid a dear price. While Rooney, Tevez and Evra were qualifiying for the semi-finals of the Champions League, Lyon, confident, combative and in good form, let things get away from them … we dreamt a little too quickly of a seventh title …

First of all Marseille, at the Vélodrome, showed they could roar louder than Lyon. At the end of a breathtaking game, OL without Cris had to incline. Fred and Jérémy Toulalan took knocks in the game. The month of April started very badly, Jean-Michel Aulas, the president who had just gotten back from Sweden where he watched the elimination of the female teram from the ½ final of the European Cup against Umea, would have preferred a better scenario…

The lion came home touched from his voyage to Marseille and in getting back to his den at Gerland against Sylvain Wiltord and his partners, hoped to find a bit of comfort… The policeman , recovered from his scarlet fever and hyper-motivated, started the night off perfectly by catapulting a pass from Juni into Patrice Lusi's goal. But it was without counting on an ultimate header from M'Bia in stoppage time which left OL feeling the result was more like a defeat.

1 point from 6 possible. The outcome of this first half of April is not the best. OL would be able to concentrate on the Coupe de France and the reception of Pouliquen's Metz and take stock of affairs at home … On this point, people have started debating about Alain Perrin's future at the head of the team.
"Coaches are well paid to take the decisions they feel necessary. I'm not here to make up the team. But I have my opinions..." declares Jean-Michel Aulas to our colleagues at l'Equipe. OL's presidents interview will make a lot of noise and cause a lot of tension in the relations between the club and the media.