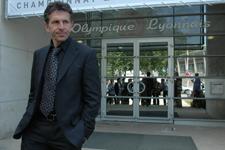 Claude Puel is the new general manager of Olympique Lyonnais. The former manager of Monaco and Lille today signed a four year contract with the seven times French champions. A marriage that has been brought up each time OL changed coaches, was made possible this season by converging aspirations. « OL is a prestigious club, who have already won a lot of titles, I needed to put myself on the line again at a top club with great ambitions, says Puel. Jean-Michel Aulas's call came at the right time as I was in a period of reflection. In Lille, I'd come to the end of a project, I was at a corner that needed to be turned: I needed a new challenge ».

« We thought about giving him a lifetime contract , explained the OL president. We're very happy that he is here as it has been a while that we wanted him at the club; I've had the feeling that our paths would come together at some point, that point is today. It's a strategic moment: we felt that things had to evolve, that the time had come to put in place a new organization; last season might have been our most successful but it was also full of doubts and risks ».

[IMG43245#R]Yesterday, during the press conference to present Jean II Makoun, he announced « not a revolution but an evolution ». Calmly but firmly, he explains with his deep calm voice, the former AS Monaco player (from 1977 to 1996) explains: « It was important for me to have a role like the one I had at Lille, to have more room for manoeuver than a simple coach. When I signed I had the choice of defining the tasks of everyone involved, to be able to choose who I would be working with. I'm not putting anybody in question; I'm joining this club full of humility. I'm going to try and bring my small contribution to the club (…) OL are part of the European elite, now, i'll have to prove myself worthy and work hard . » The new manager will not be changing « OL's technical staff » (Duverne, Génésio, Bats notably). « I get on really well with them , he says. I know them in both a professional and personal context. I have faith in them and their competence. I'm coming to OL with Patrick Collot who was my assistant at Lille. ».

[IMG43246#L]General Manager and manager are two different roles; the title has its' importance. Jean-Michel Aulas explains: « with Gérard Houllier as with Alain Perrin, it was difficult to get everyone pulling in the same direction at the same time. This time the guy in charge will have all the keys to be able to coordinate the entire thing: picking the team and the day to day management of the professional squad. As for me, I'll not have to be on the frontline as much, I'll be able to leave the new General Manager more space to breathe ».
Before handing over to the person who was his « number one priority », he confides: « We had three good candidates. Laurent Blanc could have come but Nicolas de Tavernost (president of the TV channel M6) quickly put a stop to that. Didier Deschamps was also in my plans but the fact that Claude (Puel) decided so quickly and had done wonders on a shoe string budget made my mind up. »

Puek managed to qualify Lille for the Champions League twice (2005 & 2006). A competition that he refuses to build up as a number one objective: « we will go into any competition with the hope of going as far as we can but if we want to succeed in a European cup competition, you have to be on form in the League. You have to be consistent whatever the competition, not just getting through by the skin of your teeth ». A speech not far from that of his presidents: « these games are won on details. You need a good team, a good coach and a little success. Within the next four years we have to get further than the three quarter finals we have been in, but, saying it like it is, we mustn't have ambitions that are impossible to achieve. Let's just try and progress and we won't be too far from where we want to be. "

Since January 2008, OL have invested a lot in order to be competitive in all competitions be they national or continental: reminds Jean-Michel Aulas, nearly 70 million euros have been spent on Delgado, Ederson, Pjanic, Lloris and Makoun. "I'm pleased to see Jean II (Makoun) signing for OL, smiles Puel, he is a top level player. The squad is interesting but we need balance . We will be working on that, but there will be no earthshattering announcements ".