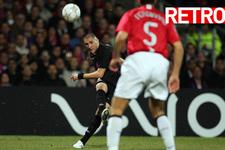 The second half of the month of February is a perfect illustration of OL's season.
Strong individual potential but a too fragile collective to look to the highest level. On the 16th of the month, OL make the trip to Le Mans with Grosso, Toulalan and Benzema on the bench. After a poor game, Lyon lose 1-0 with a goal from De Melo. Bordeaux, 6-0 winners the next day against Monaco are back to within one point. The race for the League is open once again and people are worried that OL will be blown away by the offensive armada of Manchester.

But come the 20th of the month, Lyon has forgotten everything. Finished the daily problems at home, it's time for Europe and its' stars. Now is the time for dreaming of knocking down the competitions favourites Manchester United. After having lost their first two group stage games, it had seemed improbable that Gerland would live another gala night in 2008. The atmosphere is fantastic: the first supporters arrive at the ground very early, the Kebab sellers are in overdrive, the English fans are already drunk, the optimists try desperately to find black market ticets. In the first half OL's block manages to snuff out Manchesters attacks. Toulalan is runnnig enough for 10, it is he who plays the ball in to Benzema just after the break. One second later, the ball is in the back of the net. Gerland exploses, its' prodigy has just broken down the English defence, an upset is on the cards. But, three minutes before the final whistle, the Argentinian Carlos Tévez grabs an equaliser after a mix up in the box. '"El Apache" arrow has well and truly poisened OL's future in Europe.

Three days later, the supporters still have hangovers when last placed FC Metz come to town. Fred is in the starting line-up, he scores two goals and allows OL to take a two point lead over Bordeaux who drew at home against Lille. Gerland discovers the talented youngster Miralem Piajnic. A first contact that will bring on others...