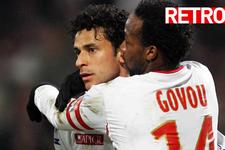 The start of the month of February is marked by reuinions and first times.
On the third day of the month, OL make the trip to their neighbours Croix de Savoie. The amateur team have in their ranks seven players brought through the OL youth system . Desperate to prove their worth against their former friends, Di Tommaso, Bouby, Perrin, Rol, Montello, Chapdaniel and Inzerillo are far from ridiculous. But Fred scores the goal that wins the game from a free kick ten minutes from time. The first goal of the season for "El Matador". A satisfying first game for the new recruit Jean-Alain Boumsong as well, helped in his task by an outstanding Grégory Coupet. OL's keeper, injured for the first half of the season will be back in the National team three days later. Qualified for the finals of theEuro 2008, France play a friendly game against Spain. Playing in red for the first time since 1986 and a training game against Guatemala, the "Blues" lose 1-0 through a Capdevilla goal at the end of the match. In Malaga, Grégory Coupet and Jérémy Toulalan played the full game whilst Karim Benzema and Hatem Ben Arfa came on as substitutes.

On the 9th of the month, Lyon are preparing for a triply important game. The reception of Sochaux can allow OL: to keep a four point advantage over Bordeaux, to get a psychological advantage over their future Coupe de France opponents and to prepare for the reception of Manchester United. Sir Alex Ferguson, present at Gerland saw OL win 4-1 thanks to two goals from Mathieu Bodmer, and two late efforts from Sidney Govou and Karim Benzema. Pancrate's goal just after half time, however, showed OL's defensive frailties of the time. It is with some uncertitudes that Alain Perrin's men get ready to go into the second half of the month of February.