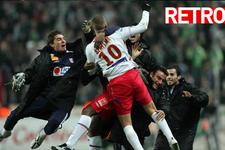 ...Cris is back in France, Boumsong arrives at OL, Anderson leaves for treatment in Brazil, Lyon refind their winning ways against Lorient and against Saint Etienne, Benzema allows OL to draw the game.
On the 15th of January, OL are back in the Coupe de la Ligue, a quarter final against Le Mans. The Léon Bollé Stadium is hit by winds that reach 100km/h. The prefect of the region announces that: « with security in mind, the match is postponed to the next day.»
On the 16th of January, Cris arrives in the afternoon at the St Exupéry airport. His great desire: to participate in the games against Manchester United. At the same time in Le Mans, the wind has disappeared. The players are ready to face Le Mans, but a storm hits the Lyon team. The club lose the game 1-0 with a goal from Matsui. Lyon are out of the Coupe de la Ligue.

On the 17th of January in the morning, the news is announced on all the radios: « Carlos the singer has died. » Sunday January 20th, back to the League. OL make the trip to Lens. Juninho misses the game, victim of a broken toe on his left foot. Cléber Anderson is out, with an injured cruciate ligament. Lyon are in a nightmare and lose heavily 3 - 0.
On the 20th of January the African Nations Cup commences. Ghana, the host nation, disputes the opening game beating Guinea 2-1. On the 23rd of January Gerland is ready for the reception of Lorient. Fred is back in the attack alongside Benzema and Ben Arfa. He lasted started a game on the 11th of November. Lyon find their winning ways again, beating the Bretons 2 - 0. Bordeaux are still in the title race, just 3 points behind.
On the 24th of January Jean-Alain Boumsong has perhaps said goodbye to Juventus a little too quickly. The negociations will last three days with the Italians being very indecisive, even complicated. On the 26th of January an agreement is reached: « Jean-Alain Boumsong is a Lyon player. » On the 27th of January, OL are in the lair of their rivals St-Etienne. Juninho is still not available, still suffering from his injury.
47th minute Gomis opens the scoring after an error from Coupet. 91st minute, the St-Etienne supporters' start leaving the stadium. They are singing in the belief they have put an end to 14 years without a win over Lyon. A free kick will put an end to their hopes. Benzema takes and scores from the free kick in the 92nd minute. OL go home with a draw. St-Etienne is green with rage. This draw coupled with a defeat for Bordeaux allows OL to build up a 4 point lead over Bordeaux.