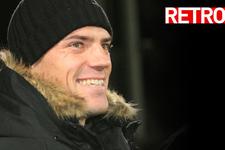 The month of January saw the return to competitive action of Greg Coupet, the return to Brazil for Fabio Santos...the arrivals of Crosas and Delgado...
As Olympique Lyonnais get back into training, a barrel of petrol has reached the bar of 100 dollars. A record on this 2nd of January.
Lyon are in preparation for the Coupe de France. OL join the competition alongside the other League 1 clubs in the last 64. Their opponents are Créteil, a team from the National Division. The match is scheduled for the 6th of January. On the 4th of the month the 2008 edition of the Paris-Dakar is cancelled due to Islamic problems in Mauritania.
On the 5th, the Lyon squad head for the Paris region. In the group is a man that everyone is waiting for with impatience: Grégory Coupet. The international keeper will be making his return to competitive action. For over 90 minutes he remains unbeaten, even making 5 great saves. Benzema scores a hattrick. It's his second since the start of the season. Juninho scores the 4th and Lyon qualify for the last 32 in the Coupe de France.

The following period is very busy as far as transfers are concerned. On the 8th of January, it is with a heavy heart that Fabio Santos returns to Brazil. The player has to return home due to family reasons. He is loaned to San Paulo for 6 months. On the 9th of January, an attacker arrives from Mexico. His name is César Delgado. He is Argentinian. He signs with OL for 3 and a half years. The next day Marc Crosas leaves FC Barcelona, where he debuted at the age of 12. He is loaned to Lyon for 6 months.

On the 11th of January, the world of mountain climbing is in mourning. Edmund Hillary, the first man to climb Mount Everest in 1953, dies at the age of 88. On the 12th of January, OL are back in action in the League. Alain Perrin's men have not won in three games in L1. Toulouse are the visitors at Gerland and OL's winning ways are back. Lyon win the game 3-2. Ben Arfa, Benzema and Juninho getting onto the scoresheet. Lyon start the year all guns blazing: two matches,two victories.