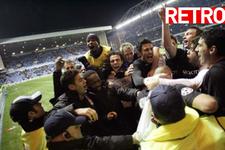 The month of December was quite contrasted for OL. With only one victory and two draws in four Leahiue 1 games, or 5 points from a possible 12, OL's domestic rhythm slowed drastically. In Europe, on the other hand, Decmber was a great month.
There is nothing like a good performance at home, to kick off the month. On this Sunday 2nd of December it's Strasbourg who feel the full force of Lyon for the 16th match of the season. At the time, Jean-Marc Furlan's team, in tenth place, think they will be able to have a trouble free season. Against OL, however, Racing show certain worrying weaknesses and concede five goals. Källström, with two goals, Juninho, Benzema and François Clerc, who scores his first goal in the League, put the Alsatians to the sword. Thanks to this easy 5-0 victory, Lyon extend their lead to six points over Nancy (the largest lead during the first round of games), the win is their biggest success of the 2007/2008 season.

Just before the holiday period, OL do their Cristmas shopping against Strasbourg, but will come back down to earth soon. For their trip to Caen, four days before the crucial rendez-vous against Glasgow Rangers, Alain Perrin decides to rotate his squad. Grosso, Benzema, Juninho and Govou are left out of the team. Without a number of first choice players, OL suffer and and lose the match to a Gouffran goal. On a mathematical level, the defeat is of no great consequence. Psychologically however, Lyon do not go into their game against Glasgow in the best possible circumstances.

« My objective is Glasgow ». On a number of occasions during his recuperation period, Grégory Coupet admitted that he wanted to make his return to the playing team for this sixth game in the Champions League. However, after a run out with the reserve team against Croix de Savoie at the start of the month (1-0 defeat), OL's number 1 does not feel he is at 100%. Coupet will miss the match in Glasgow. OL will not though...
[IMG43226#R] In the inferno of Ibrox Park with its 50 000 spectators, OL put in a perfect performance. With a victory an obligation in order to qualify, OL get over the difficult part after 15 minutes when Sidney Govou opens the scoring. During the game, Rangers will only have one occasion to break down OL, but what a chance... In the second half, unmarked just a few metres out from goal, Jean-Claude Darcheville hits the crossbar. It's the turning point of the match, as in the dying minutes of the game (85th & 88th), OL assure their victory thanks to two goals from Karim Benzema. Beaten 3 - 0 at Gerland, Lyon take their revenge and their fifth consecutive qualification consécutive to the last 16 of the Champions League...