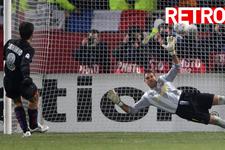 In November, everything moves quickly, very quickly in fact. After games against VA, Stuttgart and OM, Lyon make the trip to Rennes before welcoming FC Barcelona to Gerland.
Apart from that, the women's team knocks out Arsenal and reaches the semi final of the UEFA Women's Cup. Grégory Coupet is continuing his recuperation. Govou scores with the National team. Kim Källström offers his country their qualification for the Euro 2008. Baros and Grosso were also on international duty.

The Lyon squad is back together for the trip to Rennes. A worrying trip. Just a few minutes after half time, Benzema is forced off the field in pain. Worrying? After taking a knock in a tackle with Bruno Cheyrou, he will miss the game against Barcelona. A great shame!
Things had, however, started off well for Lyon Juninho scoring from the penalty spot. Benzema was pulled down, just outside the box, and the Brazilian fired home for his sixth goal of the season in all competitions (5'). A handball in the box by Edman (18') and his tackle in position of last defender on Sidney Govou (64') go unpunished, which balances things up. Anyway…
A moment of genius from Hatem Ben Arfa after a mazy run, gave OL space to breath. His shot, just under Pouplin's bar, seals the victory.

Back to Gerland on the 27th of November 2007. Benzema is still in a bad way. Barcelona are in need of just one point. Iniesta dampens everyones spirits after just 3 minutes. Played in by the youngster Bojan, the Spanish midfielder fires past Rémy Vercoutre and shows that Barcelona don't find their travels that difficult. 4 minutes later, a Juninho freekick from 30 metres out evades everyone but ends up on the back of the net (7th).
[IMG42678#R]After this fantastic start, the match calms down drastically. On one of his rare incursions into the penalty area, Messi beatsToto Squillaci, forcing the defender to concede a penalty, which he fires home himself (58'). Rémy Vercoutre then manages to stop the Catalans from building on their lead, by saving in front of Gudjohnsen (67') then from a shot by Messi (68'). At the other end Juninho equalizes from the penalty spot after a foul on Kader Keita by Eric Abidal (79').
OL will be playing their "Final" in Glasgow on the 12th of December...