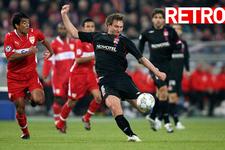 At the start of the month of October, everyone has their eyes on OL. A heavy defeat two weeks earlier against Barcelona at the Nou Camp (3-0), forces a reaction from Alain Perrin and his men...
Against Glasgow Rangers, Gerland is filled with excitement at the idea of a Champions League game but unfortunately the atmosphere will soon cool down … The Scots prove to be incredibly realistic, scoring 3 goals (from only 6 shots!) against OL, who from their 32 attempts can do nothing to avoid defeat and compromise their chances for the rest of the competition … With 2 defeats on the table, the qualification for the last 16 is slipping further away, especially as Lyon will play their next game away to the German champions, Stuttgart, who also suffered 2 defeats during the first games of Group E.

Despite this defeat, Juninho and his teammates don't have the time to dwell on matters. 5 days later, an equally decisive trip is waiting for them. League leaders, OL have to go to Chaban-Delmas for the game against Bordeaux, 3rd in the League and a serious contender for the title of Champion. As is often the case at crucial moments, they will act like they are in charge. In only a few minutes the tone has been set. Cleber Anderson opens the scoring in the 5th minute, followed 20 minutes later by Karim Benzema. Kim Källström will add to the scoring in the second half before Jussié reduces the lead. OL beat Bordeaux with ease and start to build up a lead at the top of the table.

[IMG43216#R]The 10th game in the League is followed by another international break. A break during which Karim Benzema and Hatem Ben Arfa show exactly what they can do. Against the Faeroe Islans, France wins 6-0 with 2 goals from Benzema and one for Ben Arfa. Jérémy Toulalan is also in the starting line-up. The 3 men will also be together on the pitch of the Stade de la Beaujoire a few days later against Lithuania (a 2-0 win) before getting back to Lyon and new adventures.