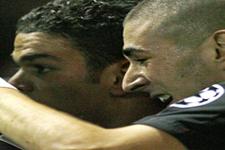 Thanks to 10 points taken from a possible 12, the month of September constitutes a key period for OL as it allowed them to get back to the top of the League table. The only sore point: the heavy defeat away to Barcelona in the Champions League.
The slap in the fac took its time coming but the mark it left is impressive: 3 – 0. OL are not the first, nor the last, team to receive such a lesson from FC Barcelona but their start to the Champions League, on the 19th of September, remains a big blow. The hardest thing to take is perhaps that the Catalans took their time in striking the fatal blow . Lyon believed in their chances through 81 minutes. Dominated all over the field, they fought off and saw come back countless attacks from a Barcelona side led perfectly by a Lionel Messi in majestic form. After 21 minutes of the game, the Argentinian had forced Clerc into scoring an own goal ; 10 minutes from the end of the game, he put an end to OL's hopes before Thierry Henry finished up the scoring. In the eyes of many observers there are reasons for the defeats: the fact that Belhadj in midfield, Réveillère, in the place of Grosso and Källström to the detriment of Ben Arfa started the game put the fault on Alain Perrin. The Press start to say that the 2007/2008 side is not as strong as its predecessors …

On the 20th of September, OL's president, Jean-Michel Aulas, presents the project of Lyon's future stadium, « a stadium of light ». 3 days later (the 23rd of September), it is at Gerland OL welcome Lille. Barely over their heavy defeat against Barcelona, OL are unable to take the measure of a well organised Lille side. After 17 minutes of play Bastos forces Juninho et al to once again chase the score. Thanks to their constant pressure, Lyon manage to dig out a draw (1 - 1), thanks to a goal from Sidney Govou, who is having the best start of a season in his career.

[IMG42645#R]On the 29th of September, OL are back on their throne. By beating Lens (3 – 0), Alain Perrin's men put themselves at the top of the League 1 table. Fabio Santos opens the scoring, putting away his first goal in a Lyon shirt. Kim Källström wil then double the score before Karim Benzema scores an absolute peach of a goal.

Thanks to this success against a Lens side who are looking more and more like a relegation candidate as week goes past, Lyon are back in a position they know and love : right at the top of the hierarchy… Benzema, is far ahead of everyone in the scoring charts.
Now the delicate situation in the Champions League needs to be sorted out. Maybe in a few days time, against Glasgow Rangers.