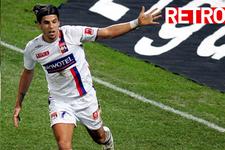 Thanks to 10 points taken from a possible 12, the month of September constitutes a key period for OL as it allowed them to get back to the top of the League table. The only sore point: the heavy defeat away to Barcelona in the Champions League.
Each season has a number of games that stay in people's memories. There are a number of reasons for this, whether it is the stakes, the events that unfold or the scenario. The game between OL and Le Mans ( 1st of September) is one of these games, mostly because of the scenario. The interest is in a specific 7 minute period, between the 71st and 78th ; 7 minutes which will be remembered as the most exciting and crazy of the season ; 7 minutes during which OL will be irresistible, pulling back a two goal disadvantage before taking the lead (3 - 2). Govou, Benzema and Baros were behind this incredible turnaround in fortunes.

Saturday the 8th of September, only one OL player is on the field at the San Siro, where France bring back a precious point in their quest for qualification for the Euro 2008 (0 – 0) : Jérémy Toulalan came on 5 minutes before full time. Four days later, Karim Benzema played 13 minutes against Scotland at the Stade de France. Not enough time to stop them from losing the game (0 – 1).

[IMG43215#R]The Lyon forward is, however, in the starting line-up against Metz, at the Saint-Symphorien stadium, on the 15th. As is Ben Arfa, back after an ankle injury contracted a month earlier against Lorient. On the pitch, the two prodigies get on marvelously.
Benzema shows the full extent of his talent during the game. Thanks to his complicity of Ben Arfa positioned just behind the striker, OL's number 10 scores a hattrick, the only one of his young career so far. Benzema is in orbit, nothing will get in the way of his ascension.

OL are now second in the League. Everything is looking good before the trip to the Nou Camp and the game against Barcelona...