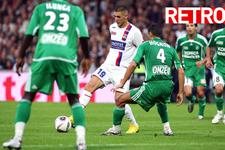 2 new faces at OL...1 defeat and 2 wins including the derby against St. Etienne...the draw for the Champions League...OL start cruising into the new season...
Lyon have decided to put their confidence in Rémy Vercoutre by signing Roux as his back up. Cris will be replaced by Cléber Anderson, a Brazilian who has played in Portugal. In the meantime, Mathieu Bodmer will play in the centre of defence. OL did not play their game on the 15th of August against Lens as the team from the north was taking part in the Intertoto cup. Their trip to Guingamp , on the 18th, finished with a 2-1 defeat and some poor defending. A goal from Benzema… and Ben Arfa who came off very quickly through injury.

Is their reason to be worried about the visit of St. Etienne ? The French Champions win the derby once again with another goal, the 3rd, from Karim Benzema. The machine is flying. The good form is confirmed with a 2-1 success against Sochaux, goals from Benzema and Bodmer. The young Karim is on a cloud. He is OL's lethal weapon at the start of the season, along with a very good Toulalan. Kader Keita is having more trouble adapting. The former Lille player has disappointed.

Away from the League, OL now know their opponents in the Champions League : Barcelone, VFB Stuttgart et Glasgow Rangers. Not easy, without being impossible. Everything will start at the Nou Camp. OL are looking for another qualification to the last 16. On the pitch, OL have gone back to a tactical schema from past seasons. The 4-4-2 has had its time … back to the 4-4-3.

The month of August is coming to an end … September is on the way with League games against Le Mans, Metz, Lille, Lens and the European trip to Spain. More than ever, we are into the thick of the season. Benzema will he continue astounding people ? Can Ben Arfa show his worth as well ? What will the new recruits bring to the team ? Can Vercoutre make people forget Coupet? How will Alain Perrin lead the group ? Still a lot of questions with autumn approaching … the moment where everything becomes more frantic.